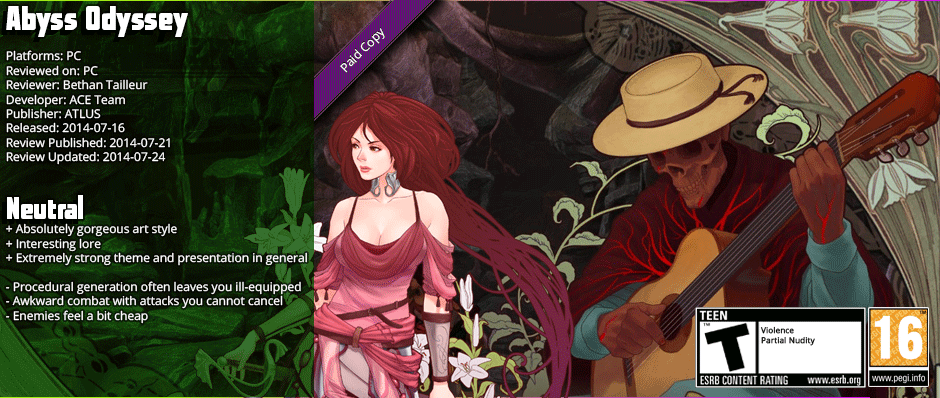 Abyss Odyssey is a side-scrolling action adventure game developed by Chilean developer ACE Team and published by ATLUS that makes use of ornate visuals, surreal art design, beautiful environments and roguelike environments to tell a story that I enjoyed thoroughly.
Set in the Chilean capital of Santiago, the city is under siege from creatures coming from the depths of the Earth as a Warlock's power grows further out of control that has you fight your way to the warlock himself and end this nightmare. So given the nature of the game and it's roguelike elements, I was expecting the mechanics to be well polished and responsive which unfortunately seems to be the direct opposite.
Abyss Odyssey expects you to grind quite a bit to succeed
Playing the game felt more like a chore than it did an enjoyable experience, the clunky nature of the controls made even the simplest of fights not only tedious but deadly to the character, and lead to my restarting on many occasions. This is something that could only be fixed by grinding for quite some time in order to increase my character's level that quickly wore away the game's charm. Though death isn't necessarily the end in Abyss Odyssey, should you fall to the creatures as you will on many occasions, you're given control of a Soldier who is not only slower, but does less damage and should you make it to an altar you can continue on as your character.
Controls and attacks you cannot cancel out of hamstring combat
The fighting mechanics themselves I found bogged down by the controls themselves, making setting up basic combos nigh impossible on some occasions only because the enemy you're trying to hit has managed to move slightly further away than you'd planned for, but when you've started this combo you can neither end it ( Save for a move cancel by way of a special attack which are limited by cancel points, 3 in total ) or turn around until the attack's frames have ended making for many a frustrating moment.
Procedural generation often leaves you ill-equipped
The game's levels being random are never really the same, but every playthrough feels not only similar but almost taunting, with the game handing you weapons you can't even begin to use due to your chosen character and forcing you to keep the weapon you start with until the stars themselves align and you find an item that increases your damage or resistance by a meagre 1 or 2 points.