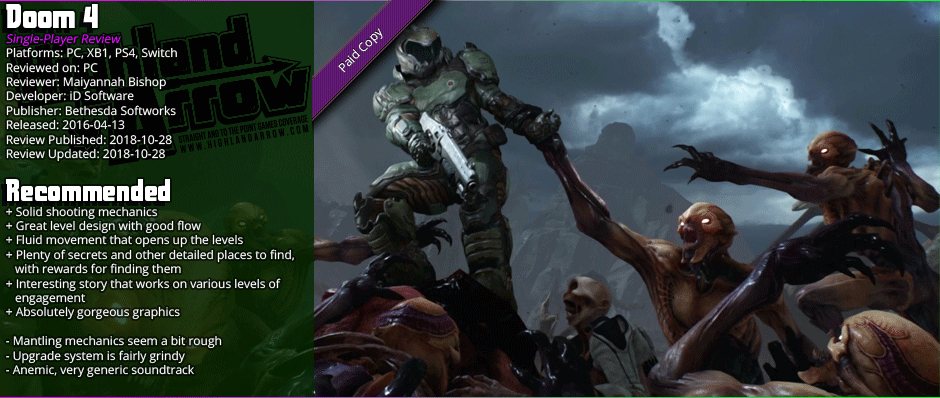 Doom 4 is the latest in the venerable Doom series of games, developed by iD Software and now published by Bethesda Softworks. This review has been a long time coming - I bought Doom 4 on release day and that started what has been for me probably one of the most difficult reviews I have ever written. Not because Doom 4 is particularly difficult to complete or comment on, but because it represents a game that simultaneously is so fun that it is one of the only games from 2016 that I still play regularly to this day, but it is also a game that could be significantly better if not for some glaring faults. So the difficulty becomes in conveying the faults of the game while not diminishing the facts it is one of the few modern "AAA" games I have played in the last couple years that I find genuine fun in rather than just mediocre "popcorn" grade entertainment or the obligations of this day job with me. So what better a way to get back into hopefully reviewing on a more regular schedule once again, than with the review that has loomed over me for quite some time now. If you're just looking to know if this game is worth buying, then yes, I definitely feel it is, but if you want something a little more in-depth, well then dear reader, let's get into it, shall we?
We begin Doom awakening in the middle of the familiar premise - a demonic invasion of a fateful Mars colony - fairly in media res. It's already in progress, you were strapped to a table for some unbknownst but unlikely to be benign purpose, but being the (in)famous Doom marine, that hardly keeps you down, and swiftly, you escape those restraints and find a weapon. You're urged caution and given an objective to re-establish communication, and through little more than gesticulation the protagonist conveys their singular desire to do just one thing: defeat the demonic invaders. Moving quickly through the initial hallways of the location you woke up in, you find the exit to Mars proper, open the airlock, and heavy metal begins to swell as the Doom logo appears on the screen, with the sound of a shotgun slug being chambered. Oh, its a bit hammy, but that was the point the game had me - as it no doubt was to many others, and it was after that which the real shooting begin.
This is a game that knew exactly its demographic and exactly what it wanted to be, and it embraces that without shame or hesitation.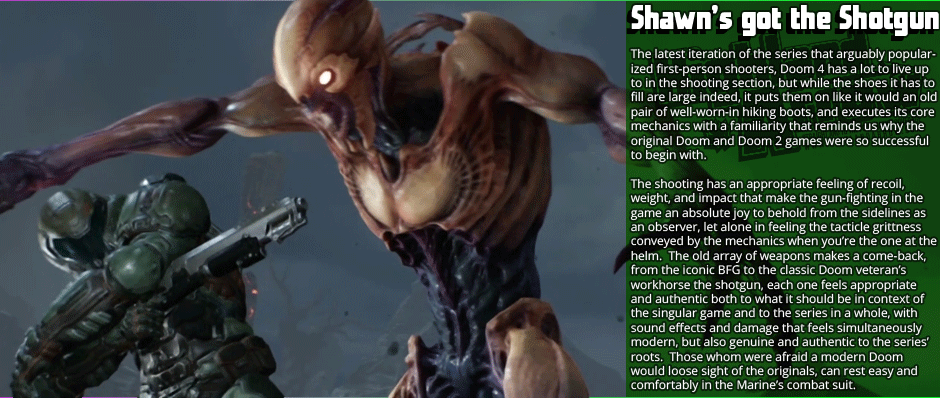 It could be argued - and I would certainly agree - that the gun-play or rather the combat in general, since Doom has always had unarmed punching and the chainsaw as well, is the one thing that the game absolutely had to get correct, and it hits a high note here. And, well, if that is truly the one thing it had to get right than Doom 4 has gotten it right. Fluid movement mechanics as well as good shooting and visceral close combat combine to create an experience that can be a hell of an adrenaline rush, especially on the more difficult modes, and it is an absolute blast.
Chief among the additions to the new Doom 4's combat mechanics are the execution moves. Once a demon is close enough to death, you can perform an execution move on them, which gives you additional pick-ups they drop and harkens to the absolute gore-fest that is the Brutal Doom mod for the original 2 games. There is a staggering variety in the animations of the execution moves, and they vary depending on what part of the demon you have under the targeting reticle and how exactly you are moving when you perform the move, resulting in anything from a simple finishing move to something as elaborate as jumping on a Baron of Hell's back to pull off a horn, only to use the sharp end of said horn to gut the demon. While a fair few of them show that the mechanic is rather clearly inspired by Brutal Doom, it's a good inspiration to take that is much in keeping with the themes of ultra-violence that the series epitomizes (sometimes to much controversy). This is not a game for the squeamish, but for action game fans that reveled in the violence of the original, these mechanics dial it up to 11. And then maybe even 12.
These execution moves aren't just there to appease and appeal to the gore-hounds, or service as an overly-dramatic fashion to reward the player for taking advantage of situational awareness with additional drops, however. The main contribution these moves have is to the game flow, especially as regards movement. Whereas most games would necessitate you dodging and weaving to avoid foes, especially powerful ones, Doom 4 eschews that pussy-footing about to embrace the over-the-top nature of its series, and lets you just go through the monsters with enough determination and ammunition, which in turn allows the game a feeling of freedom of movement that most other shooters do not achieve. Even without the Doom marine breaking the land speed record, as was oft joked about with the original Doom, you never feel slow, ponderous, or as if you are hemmed in. Sometimes the only way out is through - but through, through is always an option.